Welcome Letter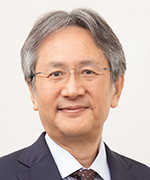 IFFS World Congress 2025
President, Yutaka OSUGA, M.D., Ph.D.
---
Dear Colleagues,
On behalf of Japan Society for Reproductive Medicine (JSRM), I am pleased to invite you to the 2025 IFFS World Congress, held on Sat. April 26 to Tue. 29 in Tokyo. The year 2025 is also an important year that JSRM celebrates the 70th anniversary of its founding, and we feel very privileged to hold this world congress as the host society during the same year.
The theme of the 2025 IFFS World Congress is "Diversity, Sustainability, and Resilience in Reproductive Medicine". The 2025 IFFS World Congress provides an unique platform for attendees to convene and network with renowned international faculty, whilst sharing cutting edge research and exploring new ideas. The various sessions will cover a plethora of topics on current advances in reproductive health, such as access to fertility care, details on reproductive rights around the globe, and studies on the patient perspective.
We also have many social events planned as well as poster sessions, and I am excited to speak to many of you and build new friendships there.
We look forward to welcoming you to the vibrant and attractive city, Tokyo.